Press Release
Novaplex is proud to announce the launch of Template Studio Metaminder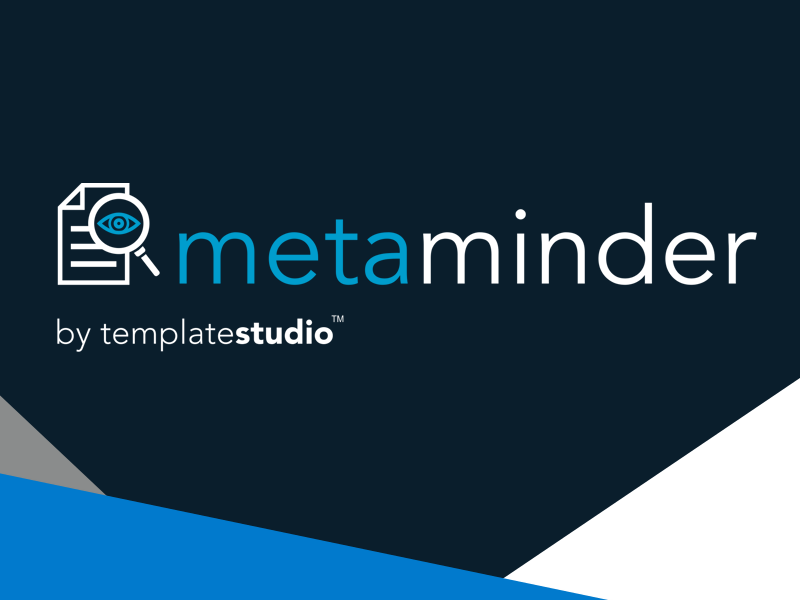 The latest product in the Template Studio Suite of software products enables users to quickly and easily clean email attachments of potentially sensitive information in Outlook. Users are also given the option to PDF, ZIP and password protect attachments upon sending the email.
Novaplex has just added an exciting new product to their Template Studio Product Suite.
Metaminder ensures that your business risk is reduced by lessening the chance of a metadata leak from any outgoing emails. It operates either silently in the background as an email is sent, or as a simple popup that appears after the send button in Outlook has been clicked. Passwords can also be manually or automatically applied depending on email destination.
Metaminder comes with a Profile Manager, which Admins can use to tailor their company cleaning profiles, to suit every requirement.
During the creation of the Metaminder software product, extensive research was carried out with a variety of firms. User interviews highlighted what businesses were looking for in metadata cleaning products and the product team made sure the product made it possible for all of these business requirements to be met.
Usability testing was carried out at each stage of the design and development process, ensuring that the users' voices were always heard and that the interface design is very user friendly.
In additional to metadata cleaning, Metaminder also reduces the time taken to manually clean, PDF and password protect attachments before sending emails.
METAMINDER BENEFITS:
Simplicity & Ease Of Use
Using silent profiles or the simple dialog that appears in Outlook upon sending a mail, Metaminder is extremely easy to use.


Productivity & Efficiency
Reduce the time taken to manually clean, PDF and password protect attachments before sending emails. Metaminder can also be set up to run silently in the background without any user intervention.


Reduce Risk & Improve Compliance
Ensuring that your business risk is reduced by lessoning the chance of a metadata leak. Passwords can also be automatically applied based on email destination.


Customisable Profiles
Tailor your company cleaning profiles to suit every department requirement within your company.
"We are extremely excited to be releasing Template Studio Metaminder. We took the time to listen to our clients, so all their requirements have been met in the creation of the software. Metadata is a hot topic and we are pleased that we can now offer this product to our clients."
MICHELLE LANGTON - MANAGING DIRECTOR, NOVAPLEX
Get in touch to arrange a demo so we can show you just how we can reduce the risks associated with harmful metadata leaks from your business.
View Metadata Article by Kemp IT Law
About Novaplex
A UK based Software and Services Company established in 2008. Providing a range of software solutions for the creation and automation of documents and presentations and email attachment metadata cleaning.
Our solutions and experience achieve:
Reliable, easy to use software to create all business documents
Quality and consistency of brand across documents, presentations and spreadsheets
Improvements in document production processes through automation and electronic signatures
Reduced risk and ensuring compliance
Efficiency and simplicity in the production of documents and presentations
Professionally designed documents and presentations with impact
Intuitive and user friendly software products
All software is Office 365, Office 2019 and 2016 compatible
Software is available in 32-bit or 64-bit versions
Request a demo